Mandarmani Sea Beach
Mandarmani sea beach declared as a virgin beach resort. Mandarmani is located in the Purba Medinipur , one of the Southern districts of West Bengal. Separated from Kolkata, by a road distance of 180 Km, Mandarmani at the end of March 2012, is yet to be explored to its' fullest potential as a tourist destination. Approximately, about 14 Kms from Chaulkhola, the tourist beach is very near to Digha and Shankarpur, otherwise famous tourist spots in West Bengal.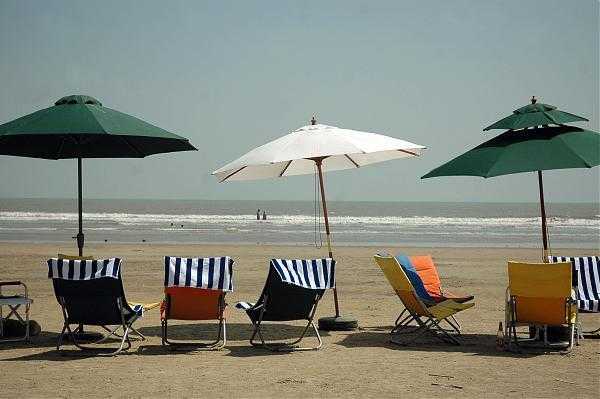 Mandarmani Travel Guide
Mandarmani beach is very popular for its' serenity and calmness, well equipped with silt coloured sand, and has one of the largest motorable beaches which extends to almost more than 15 Kms.
Being environmentally susceptible, the beach of Mandarmoni is very close to inhabited areas.
Itself not very densely populated, the destination is famous for fishing industry and the recently developed tourism industry.
One can reach Mandarmani via Kona Express way from Kolkata. From Kolaghat, the route is same as that of Digha – Kolkata. After reaching Chaulkhola, the road condition is poor for the next 12 Kms until one reaches Dadanpatrabar, the gateway to the Mandarmani.
How to reach Mandarmani
Similar to Junput, Mandarmani has no direct rail connectivity. Rail services are available till Contai, from where the destination is 7 Kms away.
Private car services are available with rates varying between Rs 3000/- to Rs 4000/- per day.
Nearest airport is Kolkata ( Netaji Subhas Chandra Bose International Airport ), which is about 200 Kms away.
Hotels, Restaurants and Beach Resorts in Mandarmani
Mandarmani is flooded with hotels, restaurants and beach resorts, of various size and categories. Good food is available especially for the tourists, but the destination lacks from good electrical connectivity. Some of the privately owned beach resorts are exorbitantly priced, while some others are quite affordable. Tourist activities are restricted to walking or driving across the beach for personal enjoyment. Otherwise one can take a deep plunge in the sea beach, in order to enjoy nature's pride.
Hotels and resorts of various ranges are available which are conveniently placed directly on the sea shore. Famous brands operating are Rose valley Group, and Hotel Sana Beach.
Besides , there are local resorts like, Samrat Inn and Samudra Vilas, Resort The Blue Lagoon , which offer cheaper room tariffs. Budget hotels like Ajay Minar are also there, where middleclass tourists can enjoy a pleasant stay.
Rates vary between Rs 800/- to Rs 3000/- per day, depending on facilities and availability.
Please see other beach location near Mandarmani :